Take a look at our recent projects. Stone Pillar Construction is a Columbus, Ohio-based home remodeler. The Ohio Farmers Union is a non-profit family farming public policy organization, Public Performance Partners is a non-profit local government consultancy and Suburban Exterior is a roofing, siding and decking contractor in Central Ohio.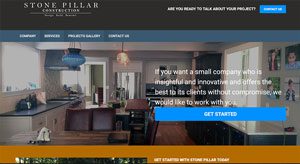 Stone Pillar Construction
Stone Pillar Construction is a home remodeler and general residential contractor in Central Ohio. They needed a website that did three things:
Explain who they are and how they do business;
Show-off some of their work in a photo gallery; and,
Provide a place online for potential clients to contact them.
Stone Pillar provided the information for their website – which is fine with us! It actually cut their cost. Stone Pillar also wanted the site to focus on the photographic evidence of their work. After all, what sells craftsmanship better than pictures? Finally, Organic Digital suggested they add a contact form. Stone Pillar's form returns information directly to the email inboxes of Stone Pillar's owner and office manager – potential clients are sure to get a speedy response.
Ohio Farmers Union
Organic Digital does it all for the Ohio Farmers Union (OFU). OFU is the kind of client we really love – really.
Why? They made us a part of their organization. They said, "We're great at creating public policy that supports family farmers – can you help us communicate that online?"
Here's what Organic Digital did. We worked with OFU to turn all of their organization's actions into a continuing stream of communications to their members and the general public through a blog, social media and a continual email campaign. The home base for their effort is a website that screams "Advocacy."
OFU's homepage was constructed to feature their most important initiatives. Their most important news became featured blog posts. Featured information  – which may have also been press releases and/or membership email blasts – are front and center.
Important information – like OFU's public policy for the year, or, OFU's insurance offerings are featured prominently on the homepage.
Organic Digital also created a Facebook page for Ohio Farmers Union. We work with OFU members to keep a constant stream of links and other content on their Facebook page that supports OFU's public policy goals and informs members and potential members of news and events regarding family farming.
Public Performance Partners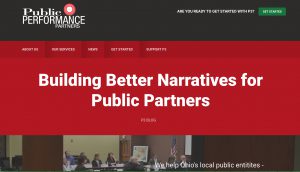 Beginning in 2011, big change started happening regarding state government support for local governments in Ohio. Elected officials in Columbus drastically cut the amount of tax dollars going back to counties, cities and townships. Hugh Quill, a former cabinet-level state official and former Montgomery Treasurer had spent his career working on government efficiency issues and started the not-for-profit Public Performance Partners (P3) to help local governments and schools deal with the changing fiscal landscape.
Organic Digital has been a partner with P3, providing communications support, content creation and website development services. Their current site was completed by OD in early 2017.
Suburban Exterior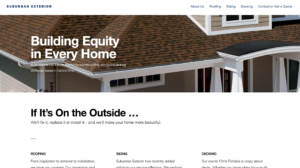 Roofing, siding and decking contractor Suburban Exterior was founded in Pataskala, Ohio in 2017. Owner Chris Ficheria wants to project a professional image and demonstrate what makes his company stand out in a crowded field. We identified the core values of Chris' business and explained on his website how that translates to successful projects. We also highlighted Suburban Exterior's commitment to primarily using Ohio and U.S.-manufactured products. Organic Digital worked on Chris' behalf with Owens Corning – a primary vendor to Suburban Exterior – to source great material for his website that demonstrates Suburban's commitment to 'Made in the USA' and honestly portray the sorts of material Suburban installs for homeowners.
While Chris Ficheria and Suburban Exterior do what they do best – build equity in their customers homes – Organic Digital tells their story online and gives their company another way to be discovered by homeowners.